Facility Service & Maintenance
Service & Maintenance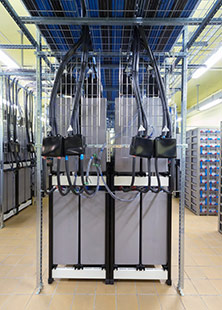 When a business needs electrical needs taken care of, they turn to Arizona Electrical Solutions of Las Vegas! We will replace existing CFL bulbs with new, cost saving LED fixtures, as well as any other commercial lighting service you may need. We can replace 120V outlets in and around your commercial building and we can install dedicated electrical panels for areas of the business that require an extra dose of stable, reliable power. When surge protection is needed, we have got you covered for that as well. We can install surge protection at the electrical panel itself, or from any of the current outlets. By installing surge protection within the outlet, you avoid having the bulky surge protectors laying around or mounted to the wall.
Many of our commercial clients rely upon us to protect their sensitive and expensive equipment. This includes but is not limited to computers of all sizes and varieties. We have installed countless self-grounding 120V outlets for businesses when needed or requested. No matter what your commercial property requires, we can handle it. We've installed bathroom exhaust fans for employee and customer bathrooms as well as Cat5e+ cables of all kinds throughout a business ensuring a safe, secure network that handles both phone and internet needs.
We understand that electrical maintenance can be an imposing thought. Rather than waiting on things to go wrong, we have many customers who prefer to go with our yearly maintenance programs that offer professional inspections of their systems to ensure everything is working properly and smoothly. Depending on the system, we provide these inspections both monthly and quarterly. If anything is in need of being replaced, our customers enjoy a discounted rate and avoid experiencing larger, more costly situations down the road that can happen when an unchecked system can fail entirely.
Let us take care of your electrical repairs and maintenance.
Call (702) 509-5230 today.