Recessed Lighting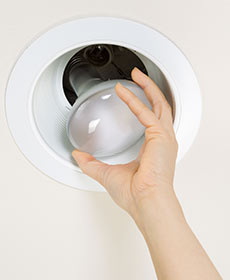 The addition of recessed lighting to your living space can create a beautiful ambiance, or accent certain features of your home. The options you have when choosing the best recessed lighting for your situation are many. We can provide you with examples ranging from Halogen fixtures, LED fixtures, and even low voltage transformer 15v systems for specific lighting needs.
Recessed lighting for the home can be found in multiple sizes including can lighting that can go from a 2" diameter up to a 6" diameter. When dealing with a commercial building, the size of the can lights can vary much more and are able to be installed for much larger bulbs.
A thoughtful lighting design process that incorporates the subtlety of recessed lighting can enhance and amplify the intended tone of a room. Rather than harsh lights radiating from the center of the room, recessed lighting can create a more nuanced lighting experience to avoid eye strain while watching television, without overdoing it and avoiding glare. Recessed lighting is a perfect way to provide lighting to one or multiple areas of a room, without impending line of sight. If you are interested in the many recessed lighting options that are available, give us a call as we would love to go over these with you.
Call to learn about our plethora of fixture style options.
(702) 509-5230

.