Landscape Lighting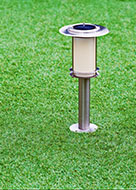 Landscape lighting is often considered a service that is completed by landscapers, but this is not true! We provide not only beautiful landscape lighting design that is installed correctly and up to code, but also have the knowledge to perform landscape lighting repair.
When your landscape lighting is installed by an experienced electrician, your electrical system will be properly protected as well as prepared for any voltage needs and weather situations. While landscapers are focused on the esthetics, of which we do very well, we understand the overall design of the system and take into account such situations as voltage drop. When your system is designed and installed by the experts at Arizona Electrical Solutions of Las Vegas, your landscape lighting system will be equipped to handle both current and future needs.
(702) 509-5230

. Las Vegas' Landscape Lighting Experts.

Our professional team takes all the necessary steps in designing and preparing your system, ensuring it is drawn out and designed entirely before installation begins. This keeps any unexpected issues from rising up and minimizes the time we will be at your home, allowing you to ensure the beautiful landscape lighting faster than other companies. Because of our electrical experience, we make sure to insulate and seal any and all electrical connections, protecting them from the elements. A vast majority of landscape lighting repairs are necessary because the previous company had not properly protected the electrical wiring from rain or wind. If your landscape lighting is having issues, our team has the equipment necessary to trace each electrical connection, identifying the exact spot of the problem. This avoids tearing up the yard unnecessarily while trying to determine the issue.

We offer the finest in landscape lighting that will look beautiful for years, and still provide you with a competitively priced installation. Vista, FX, and Hadco are some of the finest landscape lighting brands around and that is why we proudly offer them as part of our installation plans. These lighting fixures and systems offer warranties ranging from five years to the life of the product. In today's world, LED lighting is a far cheaper way to beautifully light your landscape as well as providing a brighter, whiter light versus archaic halogen bulbs.
Speak with an expert electrician at
(702) 509-5230

.