Ceiling Fans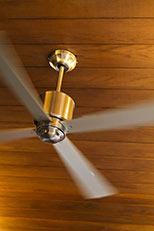 When adding a ceiling fan to your home or business, have the electrical experts at Arizona Electrical Solutions of Las Vegas handle everything for you. The addition of a ceiling fan requires taking a few things into account. Above the ceiling, is there ample attic space to work? If not, you will probably need to have drywall repair performed as well. When installed by our experts, you can avoid unnecessary drywall disturbances. Our experts will do our best to create the minimum amount of required holes so we can thread the electrical wire from its source to where the new ceiling fan will be installed.
Depending on the design of your home, the installation of an expander-bar may prove necessary to ensure the ceiling fan is supported properly and won't come down at a later date. Our work trucks are well stocked for the vast majority of our service calls, including ceiling fan installation. We keep expander-bars of all kinds on our truck so to avoid any delay when preparing your ceiling fan for installation. Even in the event of a electrical wiring already being at the location the ceiling fan will go, an extender-bar can sometimes be required. This is why we keep them on hand with every work truck that is sent out to your residence.
While most lighting runs from a simple 14/2 wire, 14/3 wire is necessary when the fan includes a light and the homeowner desires the ability to control both the light and fan separately from their own wall switches. If you would like to avoid the addition of 14/3 wire, we can install a remote for your fan offering you control from anywhere in the room!
Call Arizona Electrical Solutions at
(702) 509-5230

.