Internet Cabling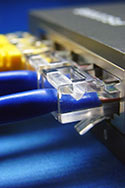 In today's internet-connected age, adding new internet or telephone wires in rooms and attics helps bring your home into the future. We have experience installing a slew of internet cables for any need including CAT5, CAT5e, CAT6, CAT6a, and more!
Our technicians arrive at every service call with the necessary equipment to test and verify the best way to install your internet cabling. Certain installations call upon the use of shielded wire, which we are happy to install as well. These are often used with security cameras to dampen electrical interference from nearby power wires. Often times, a security camera is run with both its data transmission, and power cable running side by side for some or all of the trip from camera to recording/monitoring station. We will provide you with an affordable, professional plan to take care of any internet cabling you may need.
Call Arizona Electrical Solutions today at
(702) 509-5230

.