Attic Fans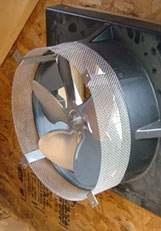 Attic fans are a common addition to homes in Las Vegas. They cost far less than running an air conditioner, and can even be used in conjunction with an air conditioner to save power and reduce stress on the AC unit. Attic fans, sometimes called Gable fans, keep your attic cool and depending on how they are installed, can pull cool evening air into a house still hot from the summer's heat. Attics can easily reach 100 degrees or warmer during a Las Vegas summer, even on otherwise temperate days. An attic fan can run automatically inside your attic, or it can be attached to a manual switch accessible in the same way you'd have a light switch installed so you can avoid having to enter your attic to adjust temperature gauges.
After having an attic fan installed by the experts of Arizona Electrical Solutions of Las Vegas, you will enjoy greatly reduced energy bills during the summer. By removing the stagnant heated air from your home and cooling your attic, you will find your house cooling down much quicker instead of running your air conditioning as it works its hardest to cool your home with the attic just above still enjoying 90+ degrees. An attic fan will reduce stress from the home's HVAC system, extending the life of the HVAC unit as well. An attic fan is a win/win!
See how much money you'll save with an attic fan installed in your home.
Call Arizona Electrical Solutions today at (702) 509-5230.