Parking Lights and Security Lighting
Parking Lights and Security Lighting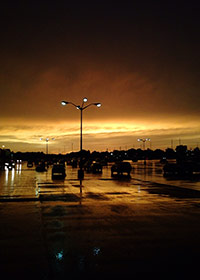 Installing parking lights that provide safety for your customers is a task that must not be taken lightly. Ensuring properly lit areas across a parking area can cut down dramatically on possible injuries and situations that may arise from dimly lit areas. We have years of expertise in both the planning and installation of parking light systems and we would love to work with you. Aside from this, we also perform security lighting installation, employing the latest techniques and state of the art equipment that balances affordability with durability. Are you interested in cutting energy costs and upgrading your current lighting system from Halogen to LED street lighting? We can do that too!
Our team has worked on many parking lighting projects in the past and know exactly how to tackle your situation. We take into account all of the city's lighting codes and ensure a design and installation that meets all code requirements. Our security lighting plans are customized to match any need. Whether you need to light up areas that are at risk for vandalism or breaking in, or have found sections of the building are not up to code and require further illumination, the friendly team at Arizona Electrical Solutions in Las Vegas will guide you every step of the way.
Gives us a call today for an opportunity to bid your project.
(702) 509-5230

.