Electrical Panel Upgrades and Renovations
Electrical Panel Upgrades and Renovations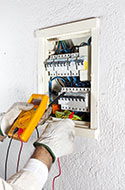 At Arizona Electrical Solutions in Las Vegas, you will find only the finest electrical contractors that are fully qualified and experienced to perform any electrical service upgrades including electrical panel upgrade and renovations. We can perform a variety of upgrades to electrical services including 100 AMP, 200 AMP and 400 AMP electrical panels.
For our residential customers around the Las Vegas area, we also provide mid-level upgrades including 125 AMP and 150 AMP upgrades, for those with underground service wire that is undersized to handle the full 200 AMP upgrade. Our commercial clients can choose, depending on their needs, from a variety of electrical panels including 3 phase 120/208 and 480 AMP.
Our professional electricians have installed countless CT CANs as well as up to 600 AMP disconnects. We are fully versed in the necessary permit requirements of the Las Vegas area and our team is qualified to asses and design a plan going forward to best serve your power needs. Let us create an electrical system for you that will both meet and exceed the needs of your business.
Call us at
(702) 509-5230

now.