Breakers & Fuses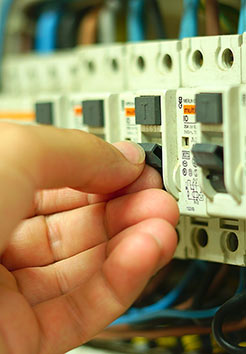 Has the power gone out? If you have lost power in some or all of your living space, and the breaker will not reset, give us a call so we can take a look at it and repair it safely if necessary. The breaker might just need to be replaced, or there may be a short in another location that can prove dangerous if ignored. With our loaded work trucks, we can usually take care of the situation within a single call, having your home or business back the way it was before the power went out. Relying upon the professionals at Arizona Electrical Solutions of Las Vegas is imperative when dealing with something as dangerous as unchecked electrical power.
In the event that you want to attempt a repair on your own, we implore you to make sure ALL power is properly shut off. Testing equipment can you tell you whether outlets or panels are electrified, and even if you are 100% sure the power is off, we highly recommend using testing equipment to avoid any danger. Electrical repairs attempted with the power still live can cause horrible injuries, and possibly even death. Give us a call and have our technician take care of it, often in less than an hour!
Schedule an appointment with us at
(702) 509-5230

.